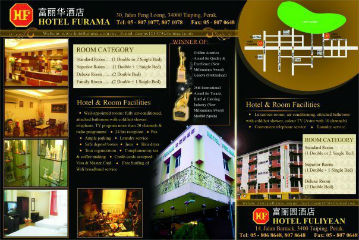 Welcome to the perfect gateway for an incredible holiday you'll always remember.
Hotel Furama is specially created for cosy family outings or the frequent business traveler. All rooms are fully equipped, parking are available.
The hotel is located a stone's throw away from Taiping Lake Garden, Zoo, Museum and Maxwell Hill. The popular spots also including shopping centres, hawker centres and restaurants are all with walking distance.
Hotel Furama offers you a fresh welcome change and delights you'll learn to appreciate.
Hotel Furama
Book With Us Now